HR Audit Checklist | Internal Audit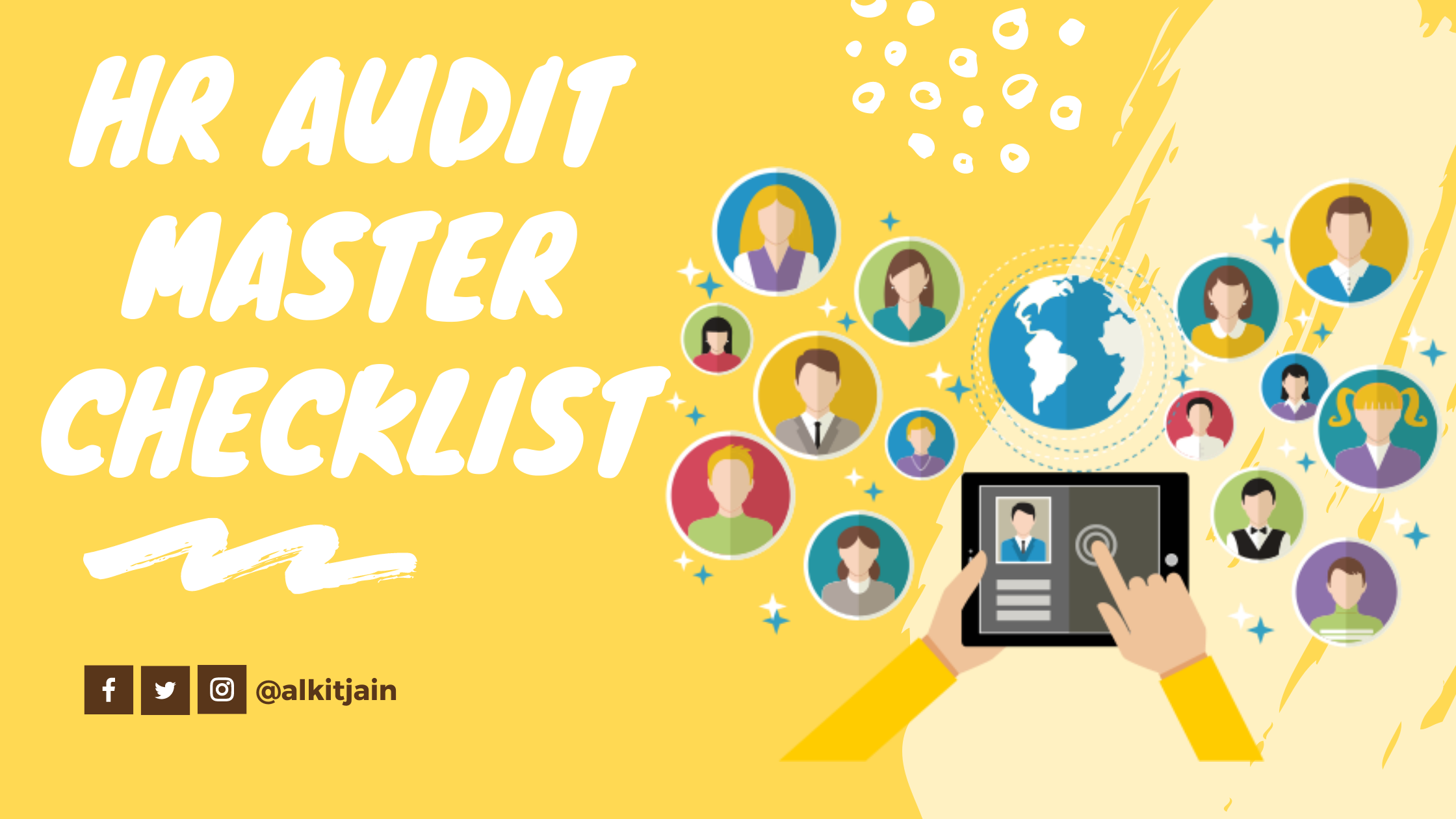 HR Audit Checklist
In this Post we will discuss about HR Audit and HR audit Checklist. Every Audit head keeps HR Audit in their annual audit plan as it is an important area to look into. HR Activities could broadly divided into 2 parts. One is Payroll and other in Recruitment n engagement . In this post we will discuss about audit of both these activities separately. In some organisation Internal team has no accessibility to payroll related data due to confidentiality issue, hence it is outsourced to external CA firms in most of the cases. Let us Discuss payroll and recruitment one by one.
HR Onboarding/Recruitment Audit Checklist :
So onboarding includes recruitment and time upto new employee settles in the organisation. You should cover following areas while executing audit of onboarding.
Requirement of manpower should come from approved authority only. Idealy HR should maintain list of approved authority from each department or requirement must be approved by HOD
Manpower requirement should be as per AOP ( Annual operating plan)
Requirement should be backed by approved JD and Skill set required ( HR must circulate a format to maintain uniformity)
Requirement should be time bound
Check scenarios where HR took help of external Agencies. You should analyse complete data to check percentage recruitment done inhouse vs consultants
Check agreements with recruitment agencies and also validate payouts. You can go extra mile by checking linkage between HR personal and agency.
Check internal reference policy (If any)
Check TAT for recruitment. ( Requirement to finalisation)
Check Joining activities for new employees ( Induction, training etc.)
Check New joiners provided with essential things likes ( Laptop/PC, Office stationary, official mail ID) etc. as soon as they join.
Also conduct interview with new joiners to check their joining experience.
Check attrition rate specially for the employees joined in past 1 year.
Check employees documents are kept in safe custody only.
Check if HR has any SOP for this function. If not do suggest one
Also see :- Procurement Audit Checklist
HR Employee Engagement Audit Checklist:
So every good organisation is having budget for staff welfare and engagement. We also include trainings in this checklist as they are also a part of engagement. Below are some checkpoints in HR Audit for engagement and trainings.
Check spent Staff welfare / Employee welfare
Conduct employee engagement survey among the employees. You can use google form for the same
Check training programs for various level of employees across the organisation
Check Engagement activities done by HR along with spent and approval
Check reward and recognition policy of organisation
check Annual appraisal process
Check whether HR department has any list of mandatory policies  such as POSH etc
Check HR policies and suggest if some are missing ( Many organisations doesn't have use of social media policy).
Also see : Fixed Asset Audit master checklist
HR Payroll audit Checklist:
Payroll is one of the key function of HR Department and it is key to organisation as well. Below are som HR audit checkpoints related payroll function.
Check compliance to regulations such as Income tax, ESI, PF, Gratuity, Bonus. ( You can create several checkpoints within these acts only).
Check TDS deductions and returns
Check reimbursement policies.
Check how HR department validate authentication of supporting documents related to  reimbursements and Income tax deductions.
Check leave encashment and leave policy and its impact on salary
Check how attendance is validated and suggest if their is any possibility of automation
Check calculation of variable pay (if any).
Check calculations related to provision made for gratuity and other regulatory payouts.
Check Sample salary figures with that in offer letter.
Check approval of HR head before final payment of salary
Check BR for authorisation of salary payments
Check protection of Payroll data and it must be with only authorised personal.
Check the use of softwares in processing Salary
Check leave trends and authorisations
Check Salary payouts as per annual budgeting
So I tried to cover checkpoints from all the major areas of HR department but still there are lot of checkpoints still left in this HR audit checklist. Do comment some more points below that I missed in this post.
Thank You !!